The transition to a more-sustainable society and the advancement of new technologies and associated new materials critically rely on breakthroughs in chemistry research. Addressing challenges related to energy, climate, health, food, and waste requires imagination from chemists to provide novel solutions. The molecular view of the HIMS scientists pervades all scientific disciplines, from life science and biology, through food science and agriculture, to nanoscience and physics.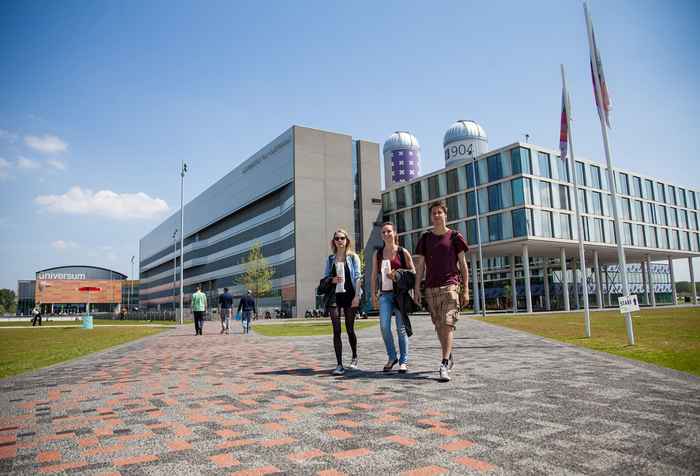 HIMS is one of eight research institutes of the Faculty of Science (FNWI) of the University of Amsterdam.
HIMS houses around 200 researchers (145 fte) with over 30 nationalities. Together they publish around 200 peer reviewed scientific articles, 20 PhD theses and on average 4 patent applications per year.
Rooted in fundamental strength
Chemistry research at HIMS entails the synergistic combination and concerted expertise of four well-established research themes: Analytical-Chemistry, Computational-Chemistry, Molecular-Photonics and Sustainable-Chemistry. All themes have a strong base in fundamental research, providing a starting point for multidisciplinary projects. HIMS researchers join in computing, understanding, implementing, demonstrating and validating molecular solutions to the important problems facing society today.
A passion for education
HIMS aims to educate and groom excellent young researchers performing PhD research at the institute. HIMS staff also passionately contributes to the education of bachelor and master students within as well as outside the chemistry domain. Together with the VU Amsterdam, HIMS maintains a broad BSc program in chemistry, and specialized MSc tracks in Molecular Sciences, and Analytical Sciences.
Valorisation is in our DNA
Knowledge transfer to industry and society is in the DNA of HIMS. In our valorisation efforts we are always looking for partnerships with industry or other research institutes to identify research questions that matter, transfer our knowledge and turn innovative ideas into reality.
To further explore our institute please use the menu above, download our brochure or browse our annual reports.