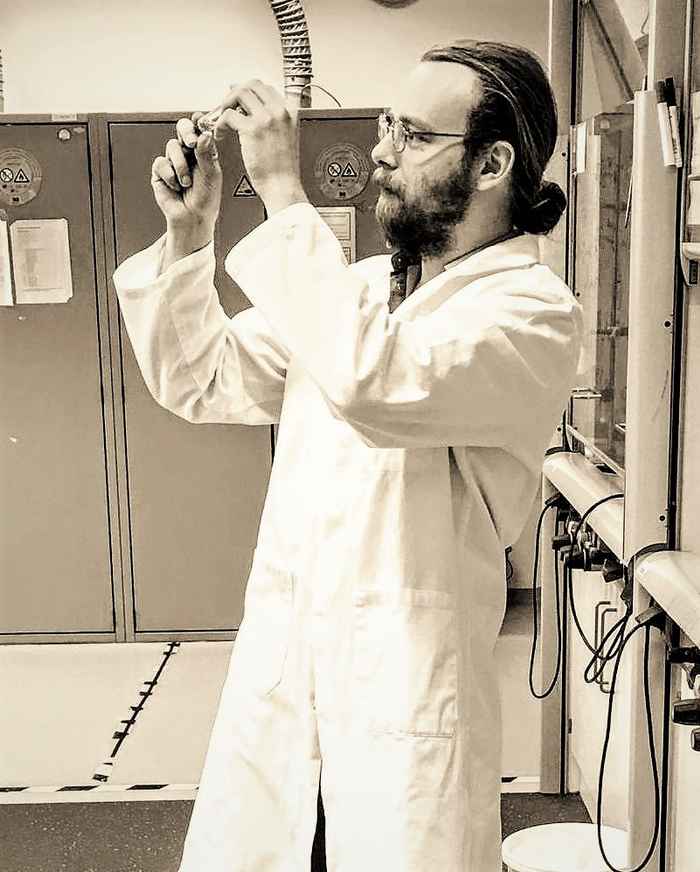 The changing global climate and declining energy security are both threats to humanity that arise from a high dependency on fossil fuels. The electrochemical conversion of carbon dioxide to 'synthetic' fuels can offer a potent solution here. When performed with renewable electricity, it can counteract increasing global temperatures while providing a secure energy supply.
In the past decades, chemists have made great progress in the design and application of molecular (homogeneous) and solid (heterogeneous) catalysts that allow the selective conversion of CO2 to chemical building blocks containing a single carbon atom. Carbon monoxide (CO) and methane (CH4) are examples of these so-called C1 building blocks. To further drive the desired sustainable development, novel materials and design principles for the electrochemical conversion of CO2 to more-value added C2 components are required. Examples are ethanol (C2H5OH) and ethane (C2H6).
Visiting the Johnson lab at MIT
In his Rubicon research, Eduard Bobylev aims to develop a new type of catalyst that enables the conversion of CO2 into higher value Cn building blocks. He envisions a conductive porous supramolecular cathode material that is capable of selective encapsulation and transformation of CO2 into the desired molecules. This multidisciplinary task will involve chemistry for the design and preparation of the desired gel-like materials, as well as engineering to build a functional device from the new composites and demonstrate the selective reduction of CO2.
For this, the lab of Prof. Jeremiah Johnson at the Massachusetts Institute of Technology provides the perfect expertise and facilities. The Johnson lab seeks to develop new methodologies for the construction of new materials-based technologies that outperform current alternatives. In particular, it has leading expertise in the preparation and application of polymeric functional materials derived from nanostructures and polymer strands. With the knowledge Bobylev obtained during his PhD, he will bring complementary expertise to the lab which is expected to bring mutual benefits.
About Eduard Bobylev
Dr Eduard Bobylev obtained his PhD at the University of Amsterdam in January 2022 under the supervision of Prof. Joost Reek and Prof. Bas de Bruin with the distinction cum laude. During his PhD research, he explore the application of supramolecular nanospheres in living cells and in catalysis. The Rubicon grant enables him to take the next step towards becoming an independent researcher in the field of functional nanomaterials.
See also