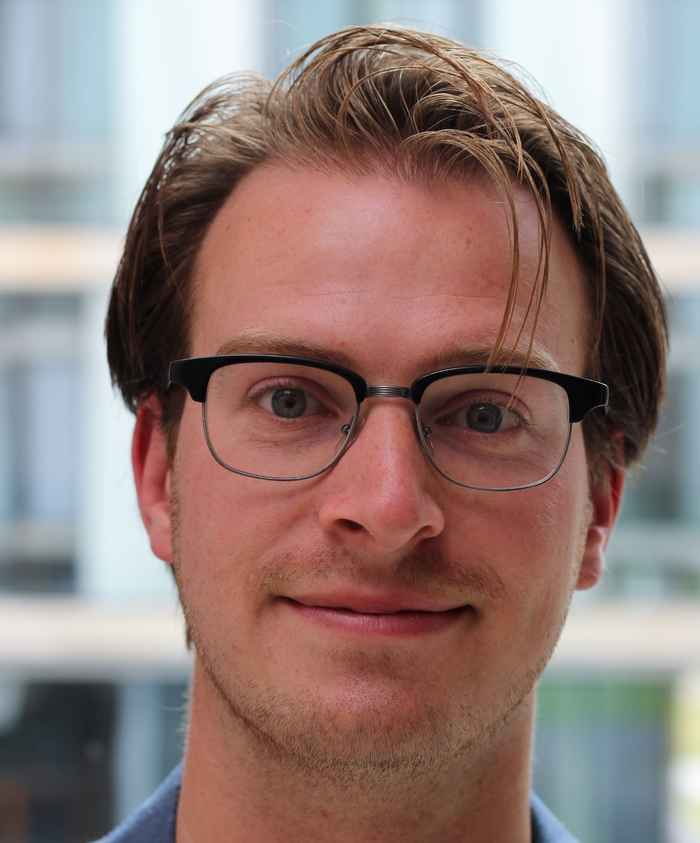 Greenhouses are strategically placed at locations where there is lots of sunlight so that their growth is maximized. Placing solar panels on the roofs of these greenhouses thus seems a logical step to achieve a fully sustainable greenhouse. Of course, traditional solar cells that absorb all the light would deprive plants of the light they need to grow. To solve this problem, Tijmen Bakker aims to develop a dedicated type of solar cell that generates electricity while still leaving light available for plant growth. His idea is based on the fact that plants do not require the full extent of the solar spectrum. They are green because they mainly absorb blue and red light, essentially 'wasting' most of the green light which amounts to around 12% of the total available solar energy. Bakker proposes to use this green light to generate electricity, hence the title of his proposal 'Using the Green in Greenhouses'.
Tuneable solar cells
In his project, Bakker will build on his PhD research where he focused on the fundamental aspects and design principles of so-called dye-sensitized solar cells (DSSCs). This third-generation type of solar cell has been around for over 30 years but has yet to find suitable commercial application. The operational principle of a DSSC resembles that of natural photosynthesis, where a dye or pigment molecule is instrumental in harvesting the light. By carefully tuning the dye molecule, a DSSC can be made to absorb any chosen wavelength. During his PhD research, Bakker synthesized and studied these dyes, assembled countless DSSCs and explored the versatility and elegance of the DSSC concept. He sees good opportunities to develop a solar cell that selectively absorbs green light and hopes to arrive at DSSC solar cell modules that are superior in efficiency, cost and tuneability.
The Faculty of Impact is an initiative of the Universities of the Netherlands, Techleap and the Dutch Research Council NWO. It is aimed at scientists who want to make an impact with their research and start their own business, offering them an intensive, two-year programme of personal guidance from experts in the field of entrepreneurship, intellectual property and investments. During this period, they will retain (or be granted) an appointment at their own university but will be exempt from administrative and teaching obligations. This gives them time and space to focus on bringing their invention to the market. The Faculty of Impact will be launched and the first ten participants will be presented on 31 May during NWO's innovation festival TEKNOWLOGY.
See also